The mission of the Office of Emergency Preparedness (OEP) is to provide a comprehensive homeland security and emergency management program for the University of Georgia in order to save lives, protect property, promote continuity of operations, and reduce the overall effects of large-scale disasters.
Programs and Services
The Office of Emergency Preparedness provides a full range of programs and services to help the University of Georgia community prepare for emergencies:
Manages the campus automated external defibrillator (AED) program, evacuation chair program, and the Stop the Bleed: Bleeding Control program.
Manages the University's emergency mass notification systems.
Oversees the campus Building Safety and Security Representative Program (BSSR).
Coordinates campus building emergency action plans.
Oversees the UGA Campus Emergency Response Team (UGA CERT) and UGA Medical Reserve Corps (MRC) volunteer training programs.
Provides training on emergency preparedness, conflict de-escalation, planning for emergencies in the classroom, bleeding control, business continuity, active threat response options, and travel safety.
UGAAlert
OEP manages the University's Emergency Notification System, UGAAlert The campus community is urged to verify their information in UGAAlert annually. More information on UGA's overall emergency notification methods and the UGAAlert activation policy may be found in the UGA Emergency Notification Plan.
LiveSafe App
The Office of Emergency Preparedness, in collaboration with the University of Georgia Police Department, provides all students, faculty, and staff with the LiveSafe mobile safety app. The free LiveSafe app provides a quick, convenient, and discreet way to communicate directly with University safety officials to report safety issues, suspicious activities, and criminal incidents. Additional features include a SafeWalk, access to campus emergency plans, and maps of automated external defibrillators (AEDs), bleeding control kits, and evacuation chairs.
To download the app and for more information, go to prepare.uga.edu/LiveSafe.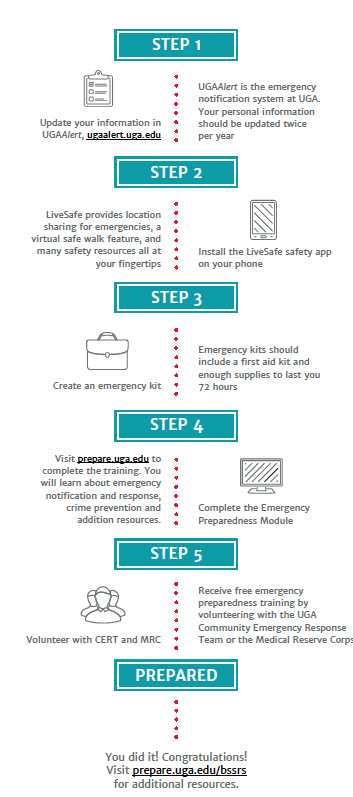 Contact
The Office of Emergency Preparedness
Hodgson Oil Building, Suite 200 South
286 Oconee St.
Athens, GA 30602‑1977
Phone: 706‑542‑5845
Fax: 706‑542‑4664
Email: prepare@uga.edu
Website: prepare.uga.edu